Your donation will. . .
Increase our ability to reach more victims.
Bring hope and healing to those devastated by clergy sexual abuse.
Expand the outreach of the ministry.
Fund advertising/awareness campaigns.
Cover travel expenses for conferences and exhibits.
Help The Hope of Survivors provide quality educational materials pertaining to clergy sexual abuse. Some of these are conveniently posted on our website as PDF files to download free of charge, others are available for purchase through the web site.
And much, much more.
Current Project Needs. . .
Staff to help with the ever-increaisng workload.
Advertising through various venues.
Increase counseling capacity.
Sponsor more Clergy Sexual Abuse Awareness & Prevention Campaign events.
Monthly operating expenses (postage, office supplies, utilities, printing, etc.), educational materials and victim assistance.
Funds for conferences, exhibits and conventions—one of the best ways to spread the word about this ministry and bring hope and healing to victims!
Hope & Healing (victim's) conference expenses (meeting space rental, meals, travel, materials, etc.).
Establishing foreign divisions to provide support to victims in other countries.
Donations are the primary source of funds that make it possible for The Hope of Survivors to maintain its ministry. Since The Hope of Survivors receives no denominational subsidies, your gifts are vitally important. We need YOU!
Creative ways to help…


Short on cash? You can still support The Hope of Survivors! We will receive a penny each time you search the Internet using www.GoodSearch.com. Money from advertisers will go to The Hope of Survivors without you spending a dime!
Do you shop online a lot? Then shop through iGive.com and earn money for The Hope of Survivors each time you order online!
Are you accumulating frequent flyer miles you'll never use? Don't let them go to waste! Donate them to The Hope of Survivors so we can conduct more conferences with less travel expenses. Call today to find out how!
You can also donate through the American Express Giving Express donation program.
The Hope of Survivors has been added to IBM's list of charities that U.S. employees and retirees can chose from during annual Employee/Retiree Charitable Contribution Campaigns. Employees have several contribution options—automatic deductions from every paycheck, onetime payroll deductions, IBM stock contributions, or a pledge to write their own check to the charity. If you work for IBM, please consider supporting The Hope of Survivors through IBM's ECCC campaign. Thank you!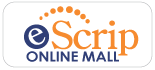 Did you know that you can earn money for THOS through eScrip by shopping at participating grocers, by shopping online, and even by eating out at participating restaurants in the eScrip Dining Network? Just click on the image or link and start raising funds now! Thanks for your support!
Now you can also donate by shopping through GiveBackAmerica! GiveBackAmerica is an online shopping mall that allows consumers to raise money for their favorite charity. You can raise money for The Hope of Survivors while doing your online shopping, all at no additional cost! Click here to find out more!
Did you know The Hope of Survivors is listed on the social networking site Facebook? Check it out!
Our work is totally dependent on the financial support of people like you who share our desire for helping others, from all denominations, to heal and find truth! Do you have a desire to help but find that you have more time than money? You can still be a part of this ministry, just check out our volunteer opportunities!
If you would like to learn more about this ministry or how you can help, please contact us at (866) 260-8958 or send us an email. Thank you very much!